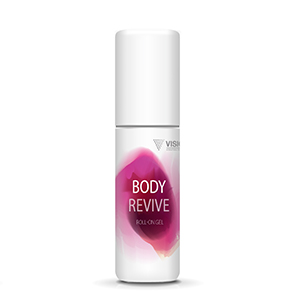 Vision Roll-on gel Body Revive
- Fresh and easy. Always!
Cod Produs: roll-on-gel-body-revive

70 Lei
- TVA inclus / Livrare 20 Lei
Producator: N&B Laboratories
Disponibilitate: Stoc epuizat
Produsul momentan nu este în stoc, lăsați-ne adresa de email pentru a vă anunța imediat despre disponibilitatea produsului
Roll-on Gel Body Revive is a cosmetic product that helps alleviate muscle and joint pain and relieve irritation. The gel is easily applied to skin, noticeably relaxing sore muscles, ligaments and joints resulting from sprains and injuries. It can be applied to hands, wrists, feet, knees, hips, back, shoulders, etc. Unlike analgesics, Roll-on Gel Body Revive does not irritate gastrointestinal tract and is harmless to liver and kidneys but provides almost instant analgesic effect. Roll-on Gel Body Revive is produced with use of highly effective herbal ingredients.
Provides instant analgesic effect for different injuries of muscles, ligaments, and joints
Quickly penetrates into skin to relieve pain for stretched ligaments and tendons, as well as injuries
Eliminates discomfort in case of skin irritations caused by insect bites
Provides cold-warming effect

Pretul recomandat de VISION este 15 Euro (~ 70 Lei) - TVA inclus.

Nu pierde ocazia, stocul este limitat, livrare in 24-48 ore prin Curier. Plata RAMBURS.

Seriozitate. Rapiditate. Cel mai bun pret online din Romania
Distribuitor Autorizat
ECV-visionminiabc
Preluam si livram
comenzi din 2015
Livrare colete
in Romania
Livrare rapida
in 24-48 ore
Plata la predare
colet prin Curier
Avantaje:
Roll-on Gel Body Revive is an effective next generation cosmetic product which has no side effects and does not cause skin allergy. It can be easily applied to the skin, is quickly absorbed and leaves no residue. Roll-on Gel Body Revive solves local problems without disrupting the biochemical processes of the entire body, has anti-inflammatory effect, and acts as an antioxidant. It is produced at low temperatures, with all active substances preserved. Roll-on Gel Body Revive is created for the most sensitive skin.
Ingrediente:
Devil's Claw — anti-inflammatory agent, reducing swelling, pain reduction.
Aloe Vera — the elimination of edema, protection, nutrition.
Arnica mountain — antirheumatic, anti-inflammatory agent.
Camomile — the elimination of edema, reduction of inflammation.
Rosemary — antirheumatic, relaxing resort.
Algin (brown algae extract, which included about 40 active ingredients useful) — refreshing, softening, moisturizing.
Olive oil (extra virgin) — mitigation, protection, nutrition.
Wheat germ oil — healing effect.
Camphor — warming, anti-inflammatory, sedative.
Sage — a disinfectant, anti-inflammatory effect.
Menthol — cooling, anesthetic.
Roll-on Gel Body Revive is helpful for:
Pain in any part of the body
Osteoarthritis or rheumatoid arthritis
Stretching of tendons or ligaments
Bruises, injuries, soft tissue inflammation, pain relief after injuries
Muscle tension
Before physical/sports weighs (for warming up muscles) and after (for relaxing tense muscles)
Application: apply the gel directly to the skin with circular massage movements until completely absorbed.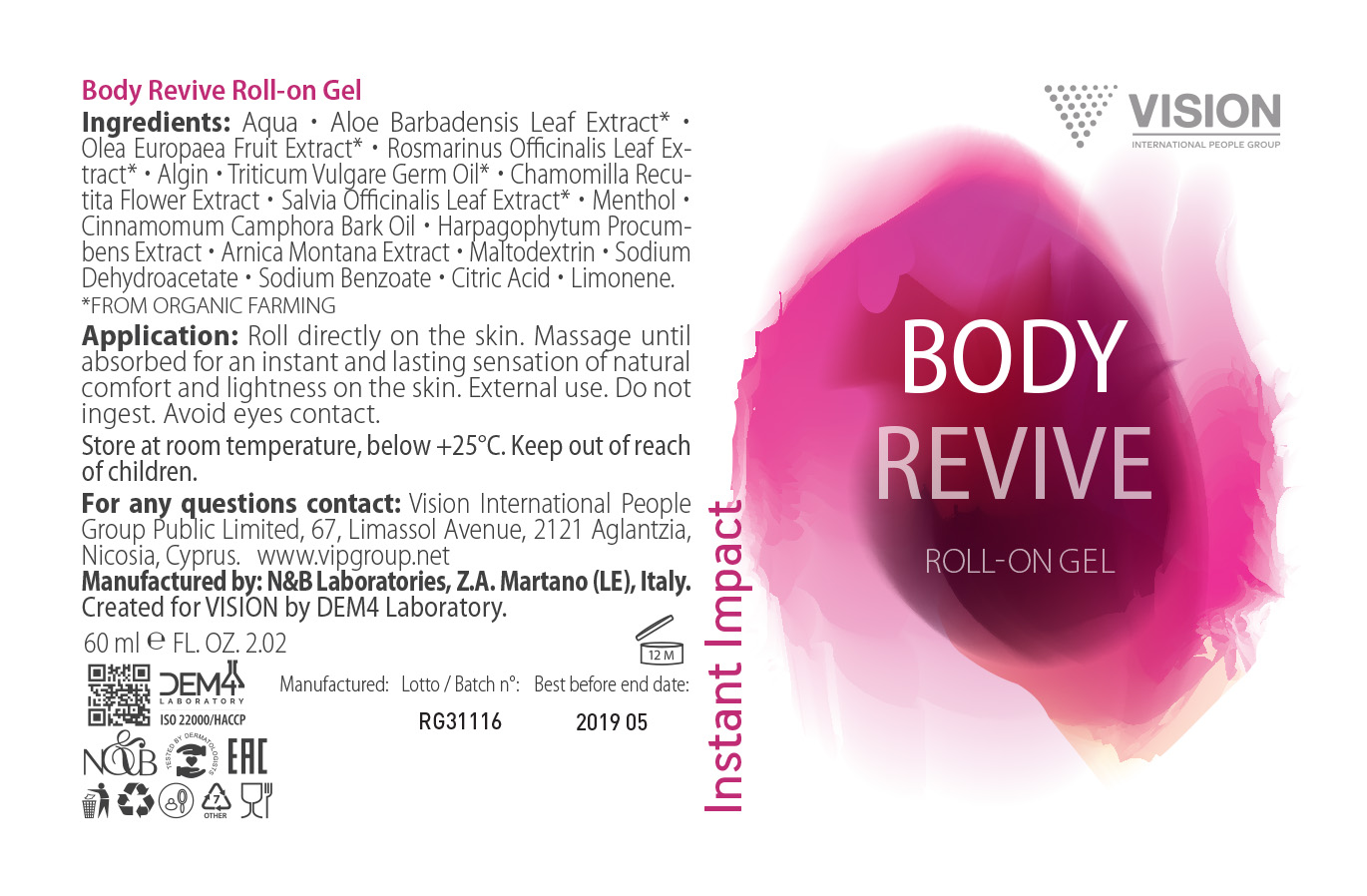 Depozitare:
Store at indoor temperature (max 25° C), out of the reach of children. Expiration date: see on the bottle.